GYNELLA® Natal Ferti Gel
For couples trying to conceive naturally.
GYNELLA® Natal Ferti Gel 6 x 5 ml
Problems with natural conception are becoming an issue for a growing number of couples these days. There are many possible reasons for that, such as the increasing age of couples that decide to try to have a child, lifestyle or the amount of stress people are exposed to. Before a woman seeks professional care in IVF centres, there is the possibility to try GYNELLA® Natal Ferti Gel, which lets couples work on their project with the comfort of being at home.
GYNELLA® Natal Ferti Gel is a lubricant gel for couples that are trying to get pregnant. Not only that it affects the vaginal mucosa and adjusts its pH, but due to the presence of myo-inositol it can also stimulate sperms.
Due to the presence of myo-inositol sperms are more active and their qualitative parameters are improved
Affects the quality of sperm due to the ions of Calcium and Magnesium
Has antioxidant effects
It helps to maintain an alkaline pH value sustainable for natural conception
Contains hyaluronic acid, which helps to hydrate intimate places
Composition:
Myo-inositol, sodium hyaluronate, lactic acid, glucose, fructose, magnesium citrate,  calcium pyruvate, sorbitol, citric acid, potassium citrate, sodium bicarbonate, zinc gluconate, carnitine, creatine, sodium chloride, and other substances.
Comparison of seminal fluid and GYNELLA® Natal Ferti Gel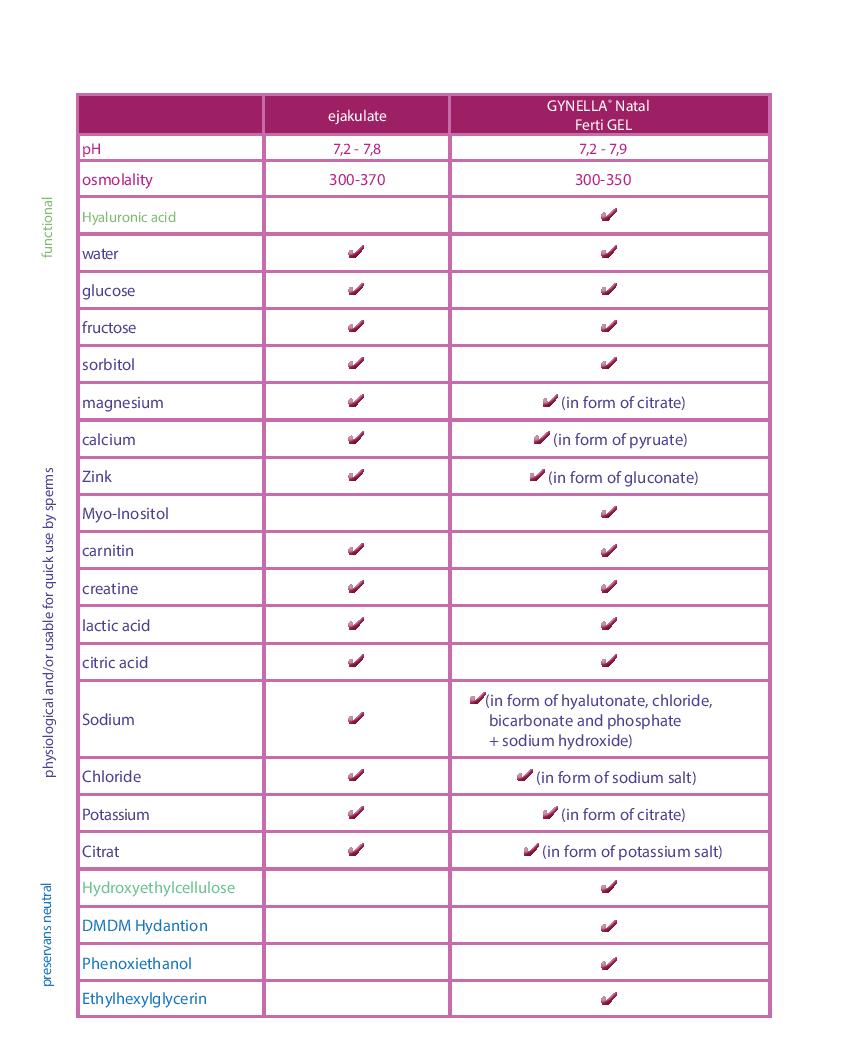 GYNELLA Natal Ferti Gel is a medical  device. Before use read the leaflet thoroughly. This medical device is available as over-the-counter product in pharmacies and is not covered by public health insurance.